The US online education market is growing wildly
Whether it is the constraints of supervision or the catalysis of the epidemic, the field of online education is being driven to continuously improve and update itself.
With the advent of the summer vacation, the domestic online education has not been in full swing, but has ushered in the cold winter with the strongest supervision. The stock prices of many listed education companies are all the way to new lows, and more small and medium-sized education and training institutions have laid off staff and are on the verge of bankruptcy. There are many large educational institutions have turned to climb out of the quagmire of K-12, towards the fertile soil of vocational education.
It is undeniable that although the education industry has always been a favored field by capital, and hot money continues to pour in every year, the consequences of education capitalization are obvious. Education will gradually break away from the essence and become more keen on profit-seeking, which not only creates anxiety among people, adds a lot of pressure, but also adds more passive competition.
Recently, the draft revision of the Vocational Education Law was submitted to the Standing Committee of the National People's Congress for deliberation for the first time.
Regulation may make online education stagnant and continue to slump, or it may reshape the operation logic and business model of the entire industry. Both investors and industry practitioners need to study new industry logic and find new ways out.
Meanwhile, online education in North America is a different story.
Today, we combine the current North American popular track star projects to do a mid-year online education industry inventory. Combined with their exploration and thinking, it may give you some inspiration to pay attention to this industry.
01 Trillion tuyere, leading stars dominate the crowd
In the era of popularization of online education where everyone can access the Internet, many companies are rapidly expanding their market territory. Whoever can capture more users will be the leader of the next era. Ready to go.
Udemy: Your online university
Udemy is an open online education website dedicated to turning knowledge into wealth. It describes itself as the "leading global learning and teaching marketplace" and is now one of the largest education platforms on the internet.
Today, Udemy has more than 150,000 courses and more than 50 million members, and users can learn almost anything on the platform.
This company was founded in San Francisco, California in 2010. After 11 years of development, it has been rejected 30 times from the initial first financing, and now it has become a unicorn company with a valuation of nearly 3.5 billion US dollars in online education in North America after 8 rounds of financing. . Udemy is currently actively preparing to go public this year.
Udemy's name is derived from the combination of English "you" and "academy", which means "your university" in Chinese. Different from other online education platforms, Udemy not only opens various courses, but also opens up teaching opportunities. It can be said that its essence is a C2C online course market, any C-end user can create courses as a lecturer and sell them on the platform.
So, as long as you want, you can not only learn knowledge on the platform, but also become a lecturer in other professional fields and earn income by selling courses. This is also the secret that Udemy has been so popular in the past two years, namely: simple operation and low threshold, anyone can learn independently, and can register and publish courses.
If we say that it is different from other online education platforms, there are the following points:
The selection of courses on Udemy is comprehensive and inexpensive, and can be completed more quickly;
Udemy allows anyone to sign up and teach a course, with many skill-based courses as well as many hobby-based courses;
Udemy is very friendly to freelancers or skilled workers, learners can find any new knowledge they want to acquire and improve their skills;
Udemy has a clear sharing mechanism for the admission of lecturers. The 57,000 lecturers on the platform have received a total of 350 million US dollars in payment, and the average income of each lecturer is about 6,100 US dollars.
The founder, Eren Bali, is an immigrant who grew up in Turkey. His growth has benefited from online learning, and the resources of the Internet community have enabled him to obtain excellent results in the International Olympic Games many times. It can be said that online learning has changed his life and gave him the inspiration for this entrepreneurship. So in 2010, five years after he graduated, Bali and two friends co-founded this open online learning platform.
However, five years ago, after Udemy completed the C round of financing and its business model was stable, Eren Bali resigned as CEO, and his main responsibility in Udemy became a consultant for "researching products and the future of learning", and at the same time, he was more interested in himself. The direction continues to study and study.
Duolingo: a cute foreign language learning artifact
As a unicorn company headquartered in Pittsburgh, it has been established for 10 years, raised 9 rounds, and offers 98 courses in 39 languages. It has about 500 million users worldwide, 40 million monthly active users, and the latest valuation 24 billion US dollars, and will be listed in one month at the earliest.
From the data of user distribution, its local users in the United States only account for about 20% of its total users, and overseas users account for a large proportion. Among them, Asian users account for about 15% of the total users.
In the context of the North American epidemic in the past two years, the number of users of the new business Duolingo English Test it developed has increased by 15 times compared with before the epidemic. Due to the epidemic situation, many candidates cannot take the language test. The Duolingo English Test system is a very good alternative. Candidates not only do not need to book a test seat in advance, but they can complete the test within 1 hour, and within 2 days. can receive the result. The test is beginning to become part of the admissions process for higher education in the United States.
Duolingo is such an online education company. In terms of product positioning, it strives to make users feel that "language learning can be made more interesting".
Users can choose different levels of foreign language learning courses according to their own level, and after completing each stage of learning, they can get virtual rewards and compete with friends online.
Specifically how it took 10 years to become the current foreign language learning artifact, Silicon Rabbit wrote an article on Duolingo in May: I pay more attention to you learning foreign languages ​​than your mother, how did this owl jump out of an IPO , which comprehensively dissects the story.
Udacity: Silicon Valley Certified Frontier Technology Platform
Compared with Udemy's low threshold and Duolingo's affinity, Udacity looks a lot more "orthodox" (tall).
Udacity comes from Silicon Valley and was founded by Sebastian Thrun, the father of Google's unmanned vehicles. It has jointly developed a series of professional certification programs with Google, Facebook, Amazon and other top technology companies in the world, and has cultivated tens of thousands of top professionals in the field of cutting-edge technology, and A series of courses have been developed with domestic giants Baidu, Tencent, Didi Chuxing and other Chinese cutting-edge technology companies.
But when it comes to its birth, it is a complete coincidence:
In March 2011, Sebastian Thrun attended the TED conference in Long Beach, where Sal Khan (the founder of Khan Academy's free online education platform), later known as the Godfather of American mathematics, was born. His story of creating thousands of instructional videos on YouTube that tens of millions of people can watch for free made Sebastian feel compelled to do something similar.
In Sebastian's words:
"I'm a full-time professor at Stanford... Now (Sal Khan) this guy has taught so many people, it puts my face in the face."
Soon after, Sebastian resigned from the Stanford faculty to become a full-time Google employee as senior vice president. But at the same time, he's promoting an online education project: Udacity.
Also after 10 years, Udacity started out primarily as a MOOC platform in partnership with universities to offer online tech courses. Because the business is so challenging and expensive, Udacity now positions itself as a global technology education platform for adults. Committed to empowering career development by providing cutting-edge technology education, helping individuals realize their career development and life dreams, and then changing the world on a large scale.
Now with 9 million users, its platform not only has videos, but also its own learning management system, built-in programming interface, forums and social elements. Udacity designs educational content: artificial intelligence, data science, autonomous driving, natural language processing, computer vision, AI quantitative investment, blockchain, cloud computing, etc.
The uniqueness of Udacity is not only in its professional positioning in education, but also in:
The service of Udacity Nanodegree is that learners only need to pay a monthly fee to study a specific subject for 6-12 months, and after completing a specific project, they will receive a certificate of completion certified by an expert; this can be Write it in your resume to represent your professional ability;
As a higher-end program, Udacity Nanodegree Plus is mainly characterized by guaranteeing that the learner can get a corresponding job after successfully completing the required study plan, otherwise the platform will refund the learner's tuition in full.
In the past 10 years, after 5 rounds of financing, Udacity is currently valued at about 2 billion US dollars, and has taken advantage of the overall trend that educational institutions are difficult to make money from the boom in online education during the epidemic last year. In the second quarter It started to make a profit.
Coursera: The first to go public, the road to making money is long
On March 31 in the first half of the year, Coursera was listed on the New York Stock Exchange. This online education company was established in 2012 in Mountain View, Silicon Valley, following Udacity, and its latest valuation was US$5 billion.
Like Udacity, the same root and Miaohong, Coursera was co-founded by Stanford University professors and well-known AI technology giants Andrew Ng and Daphne Koller. There are more than 77 million registered students on the platform, and nearly 200 different colleges and universities in 70 different countries and regions participate in the cooperation. The colleges provide online classes, including the well-known Stanford University, Columbia University, and several California systems. University, etc.
Users can explore any interesting or popular topics and topics on the platform, complete some compulsory or elective courses at the university and improve their personal skills in the process of learning.
The advantages of the Coursera platform that differentiate it from other platforms are:
Learners can adjust their learning plan according to their own learning ability, progress and method to achieve adaptive learning;
If the knowledge points are not fully grasped, you can dig deeper and learn the extended knowledge points and skills repeatedly, and you can switch freely among multiple courses instead of being limited to a single course.
When you complete a study plan, you can get an exclusive certificate from the platform to prove that you have completed the course and mastered this knowledge.
Coursera can also be logged in in China, and it also supports Chinese pages, which is extremely friendly to Chinese learners.
According to Morgan Stanley analyst Needham:
"Coursera is currently the leading online learning platform that enables millions of learners around the world to learn through a variety of content services. We believe Coursera's comprehensive learning platform will help companies gain share in the online education market. Registered users grew, but we believe Coursera's move toward higher-value corporate and degree offerings could drive the company's continued growth of 25%+."
If you want to know more about Coursera, you can extend to read Silicon Rabbit's April article: Online education giant Coursera is listed, it has been growing and losing money, you will be able to see more.
Chegg: America's "Homework Gang"
Chegg is definitely a well-known name in the North American online education industry. This online education company founded 20 years ago in Santa Clara, California's Silicon Valley, has already listed on the New York Stock Exchange in November 2013.
More recently, Chegg projected net income of $790 million to $800 million this year. In the first quarter of 2021, Chegg's non-GAAP (non-GAAP) net income was $46.4 million, total net income was $198.4 million, and the company's valuation has exceeded $12 billion.
Chegg's business is similar to Baidu's homework help in China. The main products include problem analysis and online tutoring. At present, they also have the function of taking pictures to search for problems. As a popular online education platform in China and the United States, it is also expanding. Service type.
Now, Chegg's main customer base is students studying in schools or higher education institutions, and its main income driver is the Chegg Study. Chegg Study charges users $14.95 per month/$74.95 per year. Although Chegg is headquartered in Santa Clara, California, the core of its operations is in India, where it employs more than 70,000 advanced mathematicians , science, technology and engineering degree specialists. These experts are freelancers who are online 24/7 and provide step-by-step answers (sometimes within 15 minutes) to questions posted by users.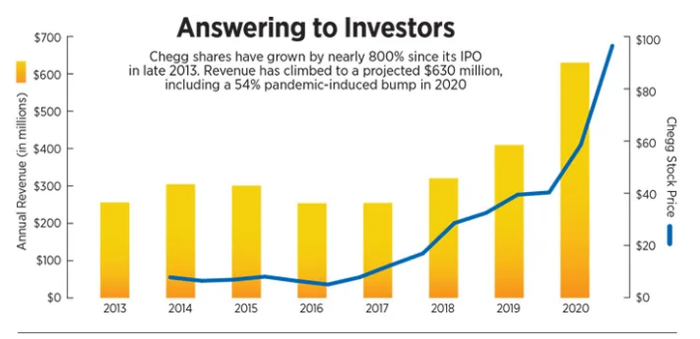 Chegg's philosophy is to help students learn in less time and at a lower cost and gain more knowledge to improve the overall return on investment in education. The company's goal is to support and accelerate students' journey from study to employment. This includes academic tools in online platforms and extends beyond the classroom into their careers, offering services from academics to employment, helping students every step of the way to improve their educational outcomes.
edX: a non-profit educational platform
When it comes to global education mecca, it is naturally inseparable from the Boston-Cambridge city where MIT and Harvard University are located. As a representative of the top universities, MIT and Harvard jointly founded edX, a very excellent academic institution, in the spring of 2012.
edX is currently a global large-scale open online classroom platform. In addition to American college courses, it also has joint online courses with top domestic universities such as Peking University, Tsinghua University, etc. Currently, the total number of courses exceeds 500, and the "Freemium" model is basically adopted. The users of the certification qualification certificate need to pay a fee, and the others are free.
Of course, there is a problem that edX's course teaching videos rely on Youtube. If the opening posture is incorrect, you will not be able to see the course.
A non-profit educational platform, its courses are offered by some of the most prestigious universities in the world, including Harvard, MIT, UC Berkeley, Boston University, and more. edX provides a large number of courses that are beneficial to higher education and science, and the courses are of high quality.
However, edX cannot issue university diplomas or degree certificates. After all, it is just an online learning platform that provides knowledge. Many students currently use it to supplement the courses they are currently studying. In addition, some courses on the platform provide content that cannot be learned in traditional university classrooms, and online feedback is also very positive. There are also many working adults who use it to recharge in their spare time and enhance their competitiveness in the workplace
During the epidemic, edX launched the Remote Access Program (Remote Access Program), which aims to help partner universities on the edX platform solve the challenges they face during the epidemic. By providing free courses and programs to students, students can be closed on campus. Continue your online learning by accessing the resources of all edX partners participating in the program.
02 The new stars sought after by capital are blooming
The U.S. online education market is booming unprecedentedly under the epidemic.
The financing of online education companies in 2020 increased by 30% compared with 2019; and the total financing of transactions in the first half of 2021 was nearly $680 million.
Guild Education: Provides low-cost education for working adults
On June 2, Guild Education, a unicorn company in the field of adult online education, announced that it has received another US$150 million in Series E financing. Bessemer Venture Partners, D1, Emerson Collective, General Catalyst, GSV and many other well-known VCs participated in the investment. This financing That valued the company at $3.75 billion.
Founded in 2015, Guild Education is headquartered in Denver, Colorado, USA, and currently cooperates with institutions of higher learning, medium and large enterprises, training camps and course content providers to provide skill-enhancing courses and degree programs. It also offers a course trading platform for students to choose content that matches their future skill needs.
Take Walmart, one of Guild's partners, for example, whose employees are required to pay $365 a year — or $1 a day in tuition; another partner, Chipotle, pays 100 percent of their employees' tuition by their employers. That's what makes Guild unique, too, in helping employers retain talent, with a solid benefit: paid education for employees.
Guild connects corporate employers with these learning content providers, and then makes a share of tuition revenue as its core business model.
Although founder and CEO Rachel Carlson declined to disclose the company's revenue and profits, she is sure that Guild's revenue has tripled since the outbreak of the epidemic in March last year. She estimates that more than 4 million Americans are currently using the Guild platform through their employers.
Guild also provides professional English courses and undergraduate courses for non-native English speakers, and corporate employees can obtain degrees through online credits.
MasterClass: Star + Expert, Entertainment + Education
On May 14, MasterClass, an online education platform headquartered in San Francisco, announced that it has received US$225 million in Series F financing, led by Fidelity Investments, and the company's post-investment valuation is US$2.75 billion.
MasterClass focuses on attracting professionals and celebrities from various industries to give public lectures on the platform. The platform charges $90 per class. The main audience is people who want to be entertained while learning knowledge. The platform's membership subscription fee is $180 for annual access to all courses, and 100% of the company's revenue currently comes from this.
Since its inception in 2015, MasterClass has been positioned to bring entertainment and education together. The specific business model is to invite professionals and celebrities from various industries to serve as tutors through online video courses to provide users with online teaching services. Users also have the opportunity to interact with celebrities, but the company's contracts with celebrities do not require mentors to give feedback.
During the epidemic in the United States, the sales of various courses on the MasterClass platform soared. There are now more than 100 online courses covering 11 categories including acting, business, cooking, filmmaking, sports, etc. CEO David Rogier said the company's growth this year has been very strong, with some weeks growing 10 times as fast as the same period last year.
Engageli: Online live teaching platform
Engageli, established in June last year, is an independent online live teaching platform focused on serving the higher education sector.
On May 13, Engageli announced that it had received $33 million in Series A financing, led by Maveron and Corner Ventures. In the one year since its establishment, Engageli has completed two rounds of financing, with a total financing of $47.5 million.
The difference between Engageli and other online video platforms lies in the adaptation to college teaching scenarios. In addition to improving the video experience, Engageli also expands the platform's capabilities with tools that empower teaching.
Features on the platform also include: deepening teacher and student engagement, creating a flexible learning environment, improving the learning experience through analytics collection, creating an inclusive learning environment where teachers can interact with students in need, and more.
Outschool: a more cohesive online teaching platform for small classes
On April 13, Outschool announced the completion of a $75 million Series C round led by Coatue and Tiger Global Management. After completing the new financing, Outschool's post-investment valuation reached $1.3 billion, making it a new unicorn company.
Outschool, founded in 2015 by Amir Nathoo in San Francisco, California, is an innovative education platform focused on small class sizes outside of school, helping families and schools access high-quality content outside of the classroom. Initially focused on enhancing extracurricular activities for homeschooled students, it later began offering a wider variety of online learning in small class sizes.
Courses on the platform cover areas such as traditional subjects, hobbies, games and talents, as well as lessons to learn Spanish with Taylor Swift songs.
The flexibility and diversity of Outschool attracts learners from all over the world and facilitates the expansion of new learning communities beyond traditional education.
The spirit of the platform around online learning has not changed since its inception. There are now more than 10,000 live video lessons primarily for young people aged 3 to 18. Learners interact online in small groups with dynamic tutors, with a wide selection of content.
For now, the startup hopes to make it into students' lives through contracts with schools and employers, which could help low-income families use the platform. The company wants to focus more on supporting students' supplemental knowledge after class, beyond the credit system.
In 2020, Outschool achieved $100 million in course subscription revenue, up from $6 million in 2019 and $500,000 in 2017. With the popularity of online education, Outschool's subscription revenue is expected to grow substantially in 2021.
Degreed: a new unicorn challenging traditional degree certificates
Degreed, founded in 2012, is headquartered in Pleasanton, California. On April 13, it announced that it had received $153 million in Series D financing, bringing the company's valuation to $1.4 billion and becoming a new unicorn company in the field of online education. $335 million has been raised.
Degreed's philosophy is to challenge the traditional degree certificate and use the skills platform to continuously improve itself.
The platform can help test the skill level of a business and then identify opportunities for learning, talent development and internal mobility for employees. The core product consists of Skills Analytics (helping companies analyze employee-level skills needs), Learning Experience (developing individualized learning plans for corporate employees), and Career Mobility (employee strengths reporting and automatically matching each person to a task, project or mentor) .
Post-pandemic, Degreed is focusing on the development of HR technology, which integrates skills intelligence with all the ways people learn and grow on the job, hoping to use effective ways to sense and respond to changes in workforce skills needs.
Edge Pathways: An educational platform that works closely with universities to provide credit
Edge Pathways, also launched last year, is a pre-employment online education company headquartered in New York.
On March 18, it announced that it had received $8 million in seed round financing, led by First Round Capital, Emerge Education, and Rethink Education.
The user group of Edge Pathways is high school students who are preparing to apply for college and intend to pursue an engineering degree. The company cooperates with universities to provide engineering and technology skills projects that can replace the first year of university credits, allowing students to learn and practice through courses as early as possible, connecting students with project-based learning and internship opportunities, to replace traditional lecture-style teaching methods, making Students gain the specialized knowledge and career skills needed in the engineering field. Program tuition is $15,000, slightly lower than state university tuition.
Edge's ultimate purpose is to serve colleges and universities that intend to admit engineering freshmen. The company's early partners will be transfer institutions, as about 40 percent of students with STEM degrees are transfer students.
Section4: Business learning platform for working people
Online course platform Section4 raised $30 million in Series A financing on March 11, led by General Catalyst and followed by Learn Capital and GSV Ventures. The New York-based company, founded in 2018 by NYU professor, author and tech entrepreneur Scott Galloway, is dedicated to providing working professionals with online courses related to business skills for "managing upwards." So far, the company has raised a total of $37 million in financing.
Galloway said in an interview that the original intention of establishing the company is to provide more incumbents and business executives with cost-effective and high-quality business learning programs to help them maintain the competitiveness they need in the workplace.
Regarding Section4's profit model, Galloway said that he will be involved in both To B and To C services - for individuals, each course will charge a few hundred dollars, and for enterprise customers with a certain number of people, it will charge several thousand dollars - This figure is arguably about the same as the cost of elective courses at an elite business school.
Section 4 is taught in a variety of formats, not just recorded videos. The platform combines project-based learning, group discussions, live classes with professors, and 1-on-1 Q&A sessions with teaching assistants, all of which increase student engagement, learning interest, and efficiency.
As of June 2021, there are already 26 online edtech unicorns around the world that have collectively raised more than $16 billion in funding over the past decade and are currently valued at a combined $80 billion. It can be seen that the online education market is promising.
Large and small enterprises in the industry are taking off collectively, and under the appearance of prosperity, the problems brought about by focusing on technology and ignoring the essence of education are also exposed. Of course, the focus of online education is not "online", but "education". The difference between online and offline is not only the gap caused by the screens connected by the network cable, but also the return to the essence of education. Technology and capital are working together to try to change the traditional education law that has been established in history.
Online education may be better, and it will never be the only way children are taught. Although the education industry in the United States is traditional, it also has an open and welcoming attitude towards technology, and how long a company can ultimately go depends on its own philosophy and its model.
Today in the Internet age, more and more popular EdTech companies and products are destined to come out. Whether it is regulatory constraints or the catalysis of the epidemic, the field of online education is driven by continuous self-improvement and renewal. With us, we can also Feeling the innovation and sharing created by technology, these continuous breakthroughs in traditional classrooms to carry out digital learning experience spaces and new teaching methods combined with artificial intelligence are all driving the development of the entire industry.